How to Setup EZ Dent 4 on the Cloud Setup Using AWS
Below are general guidelines for setting up a cloud hosted server, then setting up to an EZ Dent 4 server.
To store images and documents in the cloud we use Amazon S3 services with encryption enabled.
There are a few companies who offer virtual servers that you can use to set up EZ Dent 4, we will be using Amazon Web Services (AWS): aws.amazon.com and the EC2 Amazon Elastic Compute Cloud Web Service (Amazon EC2).
Below are the general setup steps to be followed
Sign up for a Free Tier account. This is free for one year and a good way to test. Amazon gives you 750 hours of free ec2 time on their micro servers. You can upgrade later.
Once logged into your new AWS account select the EC2 service. Once logged into the EC2 service you will see the window below.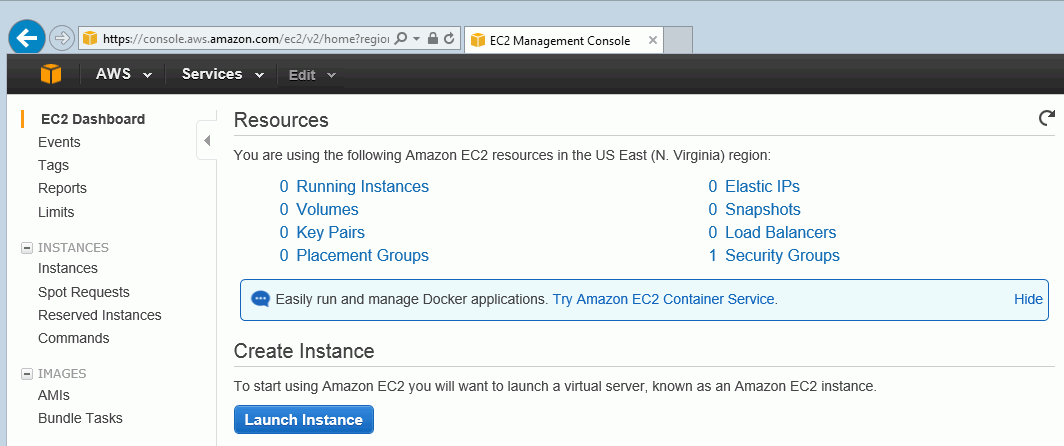 Click launch instance. This takes you to a search section where you select what kind of virtual server you want to launch. There are a wide selection of operating systems to choose from. For our needs we are choosing a windows server 2012 instance. You can choose other server versions that you're comfortable with.
Select the default settings and security groups. To activate your instance you need to select a key pair.
Save and download your key to a safe location as you will need this to log into your new windows console.
To connect to your new server click the check box next to your instance and then click connect
To get your password the system will ask you to connect to the path of your key file. This will decode your windows password.
You then download the remote desktop file and run. You can also connect to your instance using your IP address.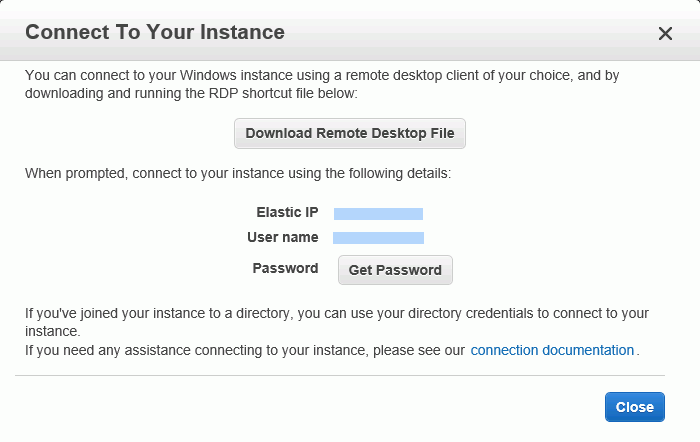 Run the remote desktop file, log into the administrator account and use the password that was decoded. Once you are logged into your windows instance you should change your password to something easier to remember.
Once you are logged into your windows instance you should install the opendental software. You can install the trial software from their website.
You can plug in a usb drive into your local machine with the installation software and assess that through RDP.
Once that set up is complete you will next need to connect your local network to the Amazon cloud network.
In order to do that you need to open ports 3306 MYSQL on your Amazon instance. To do that you go into your security group settings and open the ports that the programs will need to communicate.
Opening port 3306 to the world is a security risk so it is critically important that you update your ip address to your local office public facing IP address. The use of strong passwords, encryption s highly recommended and discussed in another article.
The above image has 0.0.0.0. This should be changed to your office IP address. 0.0.0.0 opens you up to the entire universe so do not do that!
Mapping your local network to your Amazon instance. To do this you will need to unlock port 443 In your Amazon instance security group.
Use the same procedure above and set your local IP not 0.0.0.0
Accounts on your network need to have the same accounts set up on the server in order to log in. Once port 443 is opened you will be able to access your amazon instance via UNC paths for example \\192.182.333.123
Next you need to go into the msql configuration files to allow outside connections. This should be set your office domain. To ensure the IP addresses do not change you should have a static IP address you your local office also. But this is not absolutely necessary.
Assign a Static IP Address to your AWS Instance
Assign a static IP address to the instance to make the cloud server IP address permanent. Because when you shut off your instance you will be assigned a new IP addesss when the server restarts.
In the left panel, click Elastic IPs under Network & Security
Click Allocate New Address, then assign the correct instance to the new static IP.
If you are interested in moving your office to the cloud
Give us a Call
347-791-3311